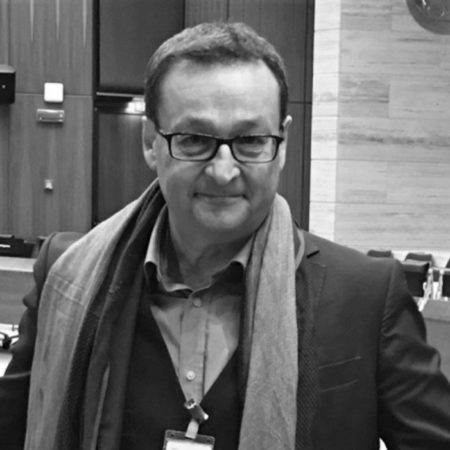 Marco Crescenzi is the founder and President of the Social Change School (formerly ASVI-Agenzia per lo Sviluppo del Nonprofit, 1997) and a member of the National Council of WWF Italy (2023). Since 2022, he has been the Coordinator of Crescenzi&Partners, a consultancy firm specializing in providing support to Third Sector managers. This firm promotes the Simposium – an informal network of Sector Executives (2021) and leader4future (2023). Marco engages in managerial coaching activities based on a model of 'collaborative management and collective intelligence' (Smart Coaching) and works as a Cognitive-Behavioral Psychotherapist (since 1994). In 1998, he introduced e-learning to the nonprofit sector in Italy, in 2010, he introduced Social Innovation (with the London group led by Filippo Addarii and I-SIN – Italian Social Innovation Network), and from 2023, he is promoting AI for the development of organizations in the sector.
——————————————————————————————————-
Marco Crescenzi is an "unconventional" Cognitive Behavioral Psychotherapist with an integrated approach from mindfulness and meditation techniques. Specialized in 1987 in Social Psychology with Experimental Address, he worked in the late 80's with the Department of Social Psychology at the University of Rome. He has been practicing as a Cognitive-Behavioral Psychotherapist since the 90's (registered as a psychologist-psychotherapist since 1992) and has made his professionalism available to the Social Change School for the co-design of the didactic processes and the personal managerial development of the students.
Founder and president of the Social Change School (since 1997), a leading international school for non-profit management, he has followed thousands of professional and managerial development paths in Europe, Africa, Asia and Latin America.
Since 1998, he has authored a dozen specialist and popular publications, and writes for the Ilfattoquotidiano blog, Huffinghton post and Blog4Change.
He is recognized in Europe as one of the most influential personalities of the Third Sector. He lives between Italy and Spain, has three children in their twenties, loves tennis, running, prosecco and good food.
Marco was also co-founder and board member of Euclid Network – Third Sector Leaders Association (London/Paris 2006), founder and President of Leader2Leader – Network of Italian Nonprofit Managers (2008), and of Symbola-Fndazione per le Qulita' Italiane. He began his career in the nonprofit sector as an activist, founding a social and environmental organization in Rome in 1980…
Since 2012 he has been writing on the blogs of Il Fatto Quotidiano of the Huffington Post. He currently lives between Madrid (since 2015), and Rome (hometown), after living in London (2007-2014).
Specialized in 1987 in Social Psychology with Experimental Address, he collaborated in the late 80's with the Department of Social Psychology at the University of Rome. He practiced as a Cognitive Behavioral Psychotherapist in the 90s and then put these skills also at the disposal of the Social Change School for the co-design of teaching processes and personal development management of students.
He has always been involved in the commitment to social improvement – first as a political activist and student representative at the Liceo Classico, in the management of Voluntary Associations (environmental-cultural), as a Manager (editorial and for cultural promotion) and then as an Entrepreneur (early '90s, enterprise 'green-economy' in strong continuity with the environmentalist commitment).
In collaboration with Titti Carta (the main expert on Italian artistic craftsmanship) he worked for the entrepreneurial promotion of this sector during the 80s and early 90s as director of the company 'L'Arte del Quotidiano', of the magazine 'Artigianato tra Arte e Design', and of the project 'La Seduzione degli Oggetti-Annuario dell'artigiano italiano' (B. Mondadori ed. 1996).
In 1997 he founded 'ASVI – Agenzia per lo Sviluppo del Nonproft' (since 2016 Social Change School), introduced e-learning for nonprofit in Europe (in 1998-99 the first 'blended formula' Masters in Management and Fundraising, the first books on Nonprofit Management).
From 2004 to 2008 he collaborated with Symbola Foundation – for Italian Qualities, with Ermete Realacci (Founder Legambiente), Domenico De Masi (Sociologist of Labour) and Alessandro Profumo (President Unicredit).
He coordinated the "Observatory for Professions and Work in the Non-Profit Sector" (2003-2008 – with the Ministry of Labour, Alma Laurea, Forum of the Third Sector, Trade Unions, and other representatives), becoming the main point of reference for the Italian media on issues of work in the Third Sector.
Internationally, during his time in London, he co-founded the Euclid Network – Association of European Non Profit Managers (2006), Leader2Leader – the network of Italian non profit managers (2008-2010).
co-founded I-SIN- Italian Social Innovation Network (2011), and the Social Change School based in Madrid. Currently, for the School, he has a significant focus on the professional development of the Third Sector in English-speaking Africa.
As a journalist he has been committed in the '90s to the divulgation of Italian artistic craftsmanship and since 2010 to the promotion of the Third Sector and Social Innovation.
His blogs on the Third Sector and Social Innovation on Il Fatto Quotidiano and the Huffington Post are also appreciated by a non-specialized audience.
Since 1989 he has been the author of several books on the sector:
"Similar loves similar or do opposites attract? For a scientific explanation of love" Experimental Degree Thesis, 1987
Family relations (in R.G.Ardone, Borla, 1989)
'The Non Profit Manager' published by Sperling & Kupfer (1998);
Manager and Non-Profit Management: The Ethical Challenge' (ASVI ed. 2003);
International Guide to Professions and Work in Non-Profit (EMI ed. 2005);
Assessing the Quality of Non-Profit and Social Enterprise: exemplary cases from the third sector' (ASVI ed. 2008);
'Social Innovation and Social Business' (Graphofeel, 2012).
'UP-Life is One: Overcoming Crises and Rebuilding Better' (Graphofeel ed. 2020).