Working in the Non Profit
Working in the Non Profit
Working in the Non Profit sector means working to create social change and to deliver strong and deep values. Those who wish to work in the Non Profit Sector do not simply look for a job, they look for a strong commitment. Motivation is what makes the difference. You need to be willing to change things for the better. What matters is the ability to turn a dream into reality.
Today, working in the Non Profit Sector is the most significant way to combine income and meaning to one's life. It is the best way to give meaning to the simple fact of being alive in a responsible, productive and creative way.
Social Change School masters are targeted at those who want to enter the Non Profit Sector (recent gradutes, managers and professionals of the For Profit Sector) and to those who already work in the third sector but are wishing to improve their professional profiles.
Since 1997, Social Change School is the main recruiting area to which Non Profit Organisations turn to recruit and train their executives and managers. Former Social Change School students are now professionals working in the main non profit organizations in Italy and abroad.
The Social Change School trains the most requested professional profiles in the sector as our EMPLOYMENT FOLLOW UP ANALYSIS demonstrates.
Find below the main professional profiles in the history of Social Change School – Professional Profiles according to each Master Programme.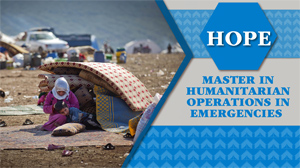 The profile is sought by humanitarian International and National NGOs and by the United Nations agencies intervening in natural disaster and man-made crises. Emergency actions respond to hazardous situations, that represents a critical threat to the health, safety or wellbeing
Do you want to get to know your professional potential and your career prospects in depth?
Discover all the services of the Master, the Professional Profiles, the teachers, the organizations, the locations of the workshops, the Career Development Service, costs and scholarships.