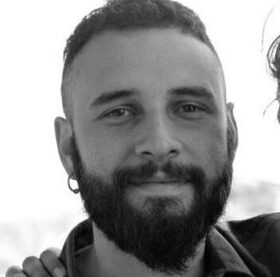 Head of Didactics, Master PMC & MIDHA Coordinator
Emanuele was born in a small village in the Italian countryside, close to Pavia.
From an early age he felt part of something bigger and began to travel and visit countries, developing a great empathy for people.
He graduated in Modern Languages ​​and Cultures, particularly fascinated by the Russian language and culture. He investigated and gave lectures on the delicate situation of the Russian-Ukrainian conflict and on the situation in the Donbass region.
After several experiences in the for-profit sector, he decided to change his perspective and find a path that motivates him by enrolling in the Master in Project Management for International Cooperation at Social Change School.
He moved to Madrid with a great spirit of adventure and began collaborating as a Project Manager with Growth, a Spanish NGO, in a post-emergency project for three communities in the Piura region of Peru affected by cyclone Idai. He trained as fundraising coordinator in Doctors without Borders Spain and later collaborated with Avsi People for Development on projects for vulnerable children in Mozambique.
During the pandemic year, he reinvented himself and worked as a Logistics officer in the management of a large logistics company in Italy.
Back in Madrid, which to him feels like home, he started collaborating with the School because he likes to be a point of reference for students and wants to convey all his enthusiasm in helping others.
Hostile Environment Awarness Training & TECC Certified
He loves Buddhist philosophy, cinema, and tattoos.