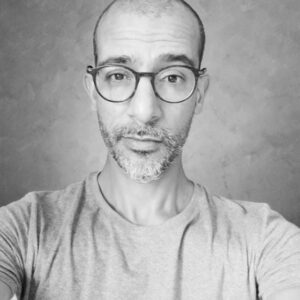 Ma'mon was born in a small village in north Jordan Valley. He studied English language and literature at Yarmouk University in Irbid, Jordan to come back to his village as an English language teacher with UNRWA (United Nations Relief and Work Agency for Palestinian Refugees).
After eight years of being fully involved in supporting Palestinian refugees in Jordan he decided to move to Italy in 2009 in order to follow his dream of accomplishing his higher studies.
Pursuing a rigorous academic journey, Ma'mon earned two master degrees in Political Science with a focus on European and International Studies from the University of Roma Tre between 2009 and 2011. He obtained a Master's degree in European citizenship and Euro-Mediterranean Integration in 2011 and a Master's degree in Peacekeeping and Security Studies, in 2010, from the same university.
As a testament to his dedication to continuous professional growth, Ma'mon completed various professional development courses. Notably, he undertook a Prevention of Sexual Exploitation and Abuse (PSEA) course and Managing Cross-Cultural Teams training conducted by IOM, and Preparing and Responding to Active Shooter Incidents conducted by the United Nations Department of Safety and Security (UNDSS). Moreover, he undertook Building Climate Resilience Through Ecosystem- Based Adaptation Planning and Introduction to Green Economy courses conducted by UN Climate Change Learning Partnership.
Since then, Ma'mon Khalaf has been volunteering and working in the humanitarian and emergency sector with different local and international non profit organizations. He served as a Field Support Officer at the EUAA (European Union Asylum Agency) in Rome. In this role, he effectively liaised with tribunals, EUAA Research Officers, and field teams.
Previously, Ma'mon held the position of Project Clerk for linguistic mediation services at the International Organization for Migration (IOM) in Campobasso, Italy. During this tenure, he played a crucial role in scheduling asylum seekers' appointments for submitting international protection requests, allocating asylum seekers to various hosting structures in the Molise region, and ensuring compliance with related regulations.
Apart from that, he showcased exceptional writing and analytical skills as a Journalist Writer for different Arab media outlets and platforms. Engaging a global audience, Ma'mon authored weekly articles and in-depth reports on political, socio-economic, cultural issues, and human rights. Moreover, he facilitated online editing training sessions, effectively contributing to the growth and development of the team. A notable achievement during this period was his coordination of a one-year investigative research project focusing on 24 Arab and Islamic governments' lobbying efforts in the U.S.A from 2011 to 2020.
Between May 2017 and December 2018, Ma'mon held the role of Greenline Coordinator at the European Asylum Support Office (EASO) HQ in Rome. In this capacity, he adeptly supervised the daily work of nine team members, ensuring seamless communication between beneficiaries, the HQ office, field teams, and Italian authority offices. He was responsible for collecting, analyzing, and classifying cases and data from beneficiaries and the field, which formed the basis for preparing detailed weekly and monthly descriptive and statistical reports.
Furthermore, Ma'mon boasts an entrepreneurial spirit, as evident from his co-founding of Else Edizioni, a publishing house based in Rome, from October 2012 to June 2015. Taking charge of daily tasks and 15 workers, he demonstrated remarkable fundraising capabilities, securing over 30,000 euros in donations. Additionally, he played a key role in negotiating business agreements, participating in editorial festivals and presentations, and overseeing the printing process.
In recent years, Ma'mon decided to make a step further in his professional life so he enrolled in the PMC master for international cooperation and development at Social Change School focusing in particular on environmental and climate change issues. This step was fundamental for him as he launched a promising environmental project in Jordan for restoring degraded ecosystems, promoting circular economy and improving resilience to climate change in terms of water security and alternative energy resources. So he started collaborating with the School because he likes helping future environmental and social change makers.